THTH TIE project (Nov/2019 - Oct/2021) is resolving the technical information exchange challenges in process industry project and O&M businesses together with international standardization organizations and companies. The project starts to create a company network infrastructure for a digital business ecosystem, that will be based on three collaboratively agreed layers:
data modeling and classification,
business processes between companies and
integration interface (reference APIs)
Data modeling development means specifications how technical information that is to be exchanged should be classified and parsed, and how the information content should be defined for projects and O&M in a practical way. This requires international standardization collaboration. Special attention will be paid on forest industry needs. The goal is to create a concept and appropriate tools for data model management and test it with selected exemplar equipment classes together with companies and standardization bodies. This means that after the project we will have a permanent way to create, maintain and share data models and schemas.
The participating seven major multinationals (Stora Enso/Efora, Metsä Board, UPM-Kymmene, Andritz, Sulzer Pumps Finland, Metso Flow Control and ABB) with the Finnish Society of Automation will bring their own information exchange use-cases into mutually agreed PoCs, pilots and tests. The related workflows between companies will be documented to common ecosystem use-cases – to standardized collaborative business processes between companies. Some of the use-cases will be common with the adjacent national SEED forest industry project.
These use-case specifications together with corresponding data models define common requirements for companies to get their backend systems integrated to the open digital network. Companies together define common requirements of the open network integration interface for the IT and integrator companies including interoperability testing requisites - specifications for reference APIs. Companies also set the common network infrastructure requirement specifications for the network infrastructure providers. These specifications will be done together with IT service companies (that participate TIE as external IT experts).
Standardization plays crucial role on all layers. A part of the project targets is to activate Finnish standardization efforts in this field and connect with the leading international organizations. See article in Automaatioväylä number 6/2019, pp.24-25, in Finnish
Even though the project already started, you can join the TIE project and bring your contribution for creating an open digital ecosystem together with your business partners and major international standardization organizations!
Digital data exchange enhances asset information integrity, thus improving dependability and reducing human, environmental and plant-assets related risks. This means more than 1% (EBIT) business benefits. Automated workflows speed up business processes between companies, reducing transactional costs more than 0.5% (EBIT) and shorten remarkably lead times in investment projects. In multi business partner environment also your IT implementation and maintenance costs (to external network) will be decreased remarkably as more business partners are digitally integrated to your standard interface. The biggest economic impact comes, however, through the ecosystem growth - the more owner-operators, equipment vendors, EPCs, service providers are connected, the bigger the benefits are for everyone!
What can TIE offer? / Mitä TIE voi tarjota?
Example - an investment project use-case
Digital workflows are implemented transaction by transaction (based on the company's corresponding internal process integration maturity level). The example project case below, as many other use-cases, has many different phases that all may have many different implementation ways. Participating companies select their preferred use-cases, defines the detailed phases they are interested on and agree together with business partners in which way they will test or pilot it.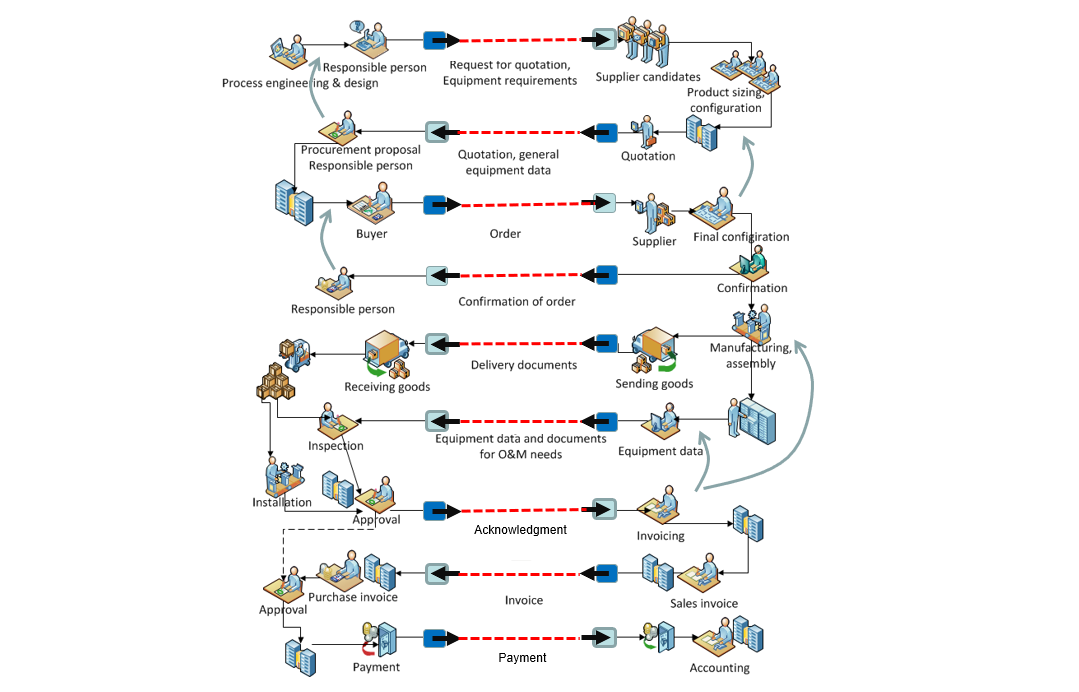 Tests, PoCs and pilots of companies give feedback for the common digital infrastructure development.